Best Practices for an Iterative Cloud Cost Optimization and Cost Management Practice
In Amazon's Q3 earnings call, Amazon CFO Brian Olsavsky stated that AWS has seen an uptick in customers focused on controlling costs, and that the company is proactively working to help customers optimize. Given economic uncertainty, cloud customers are looking to optimize cloud spend. In a recent study by 451 Research, 97% of respondents said they experience challenges using AWS, with 41% saying AWS cost optimization is their biggest challenge.
Without cost containment or governance strategies, companies are subject to a continuous climb spend pattern. Organizations facing the continuous climb spend often approach cost optimization as a periodic event, addressing the issue with a reactionary, short-term decision, such as making a large reserved instance (RI) purchase once a year. To break this continuous climb spend pattern, businesses need an ongoing, collaborative, and iterative process to cost optimization and management.
This blog article discusses cost optimization and management best practices and resources on operationalizing and maturing your cost optimization strategy.
‍
AWS Cost Optimization Design Principles
AWS has defined cost optimization design principles as part of the AWS Well-Architected Framework. Below we've listed AWS cost optimization best practices that align with business objectives, including design principles for existing workloads and for evolving or re-architecting workloads.
Techniques Within Existing Workload
Embrace consumption model - The consumption-based model for the cloud means you only pay for what you use and can increase and decrease your resources, and thus spend, with workload demand.
Measure overall efficiency and tag your resources - This principle helps you determine what is running in your environment, why it is running, and to be able to able to allocate those costs to different projects and cost centers, leading to visibility in your cloud spend and being able to allocate spend more efficiently and appropriately.
Apply governance policies - Cloud sprawl tends to happen when a company lacks visibility into the spread of its cloud instances, services, or providers across the organization. Without governance policies, the self-service nature of the cloud lends to cloud sprawl. Defining and implementing governance policies will help maintain and gain control of unchecked cloud growth in your environment.
‍
Evolving workload
Re-architect to leverage microservices - Serverless Architecture and Containerazation of your environment can lead to a leaner AWS environment with lower cost.
Reduce licensing burden - Stop paying for software licensing based on what you needed to have in your old data centers, and transition to lower cost software that runs seamlessly in the AWS Cloud.
Reduce operational expenditure with cloud managed services - Gain flexibility and agility in cloud and IT spending when you partner with a cloud managed services provider who takes on the day-to-day burdens of managing your cloud.
Optimize over time - Purchasing RIs and Savings Plans once a year, despite their immediate short term savings, doesn't remove the waste created by unchecked bad habits in your cloud environment. Establishing a review cadence will reduce costs monthly and will provide larger savings over your lifetime on AWS.
‍
Cost Optimization Lifecycle
These cost optimization design principles come together in the cost optimization lifecycle. Cost optimization is not an event but a process and continuous cycle. Below are four phases of the cost optimization lifecycle and 28 distinct actions we recommend that make up a cost optimization practice. While every business and environment will differ, we recommend following a defined cost optimization lifecycle process like this for continuous refinement and improvement.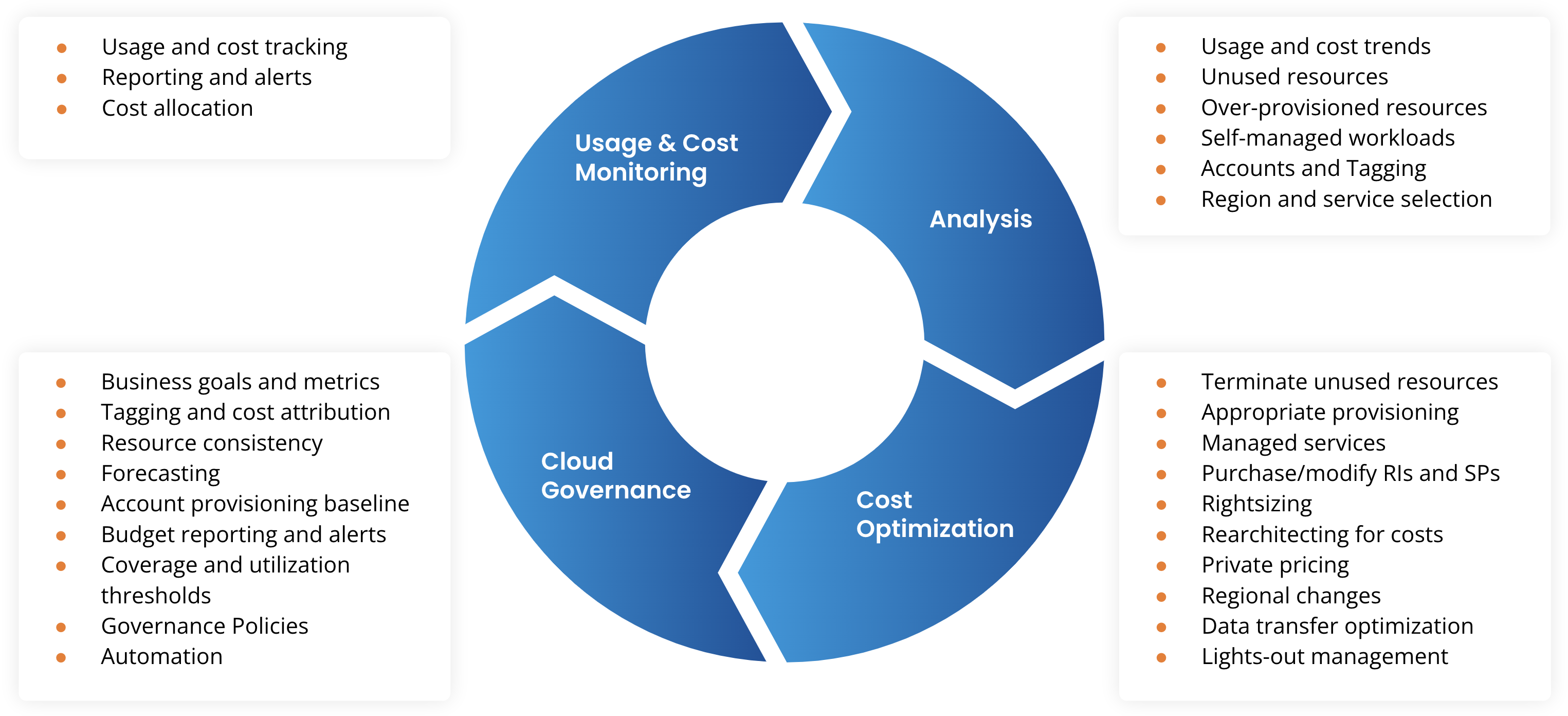 This process may seem overwhelming, but with more iterations and practice, the process becomes more streamlined. Adapting a continuous cost optimization practice is like developing a muscle. Once your business adopts a process, the more times it's gone through over time, the more it becomes standard and part of business operations.
‍
Operationalizing Cost Optimization
Many businesses are unaware of how to operationalize cost optimization or may not have the resources to do so internally. An effective cost optimization practice requires people, processes, and tools.
People - FInOps Cloud Analysts to interpret information and data from the tools and cloud management platform
Process - Continuous monitoring and cadence reviews with stakeholders, defining governance policies that align with business objectives
Tools - Cloud Management Platform for in-depth cost analysis and reporting (e.g., CloudHealth by VMware, AWS Cost Explorer)
Developing and maturing a cost optimization practice can be an overwhelming task, but you don't have to do it alone. Whether you have a mature cost optimization practice and are looking to level it up or begin the process, support and resources are available to tackle your cost optimization initiatives. With a cloud managed services provider like Mission, gain the guidance and expertise of AWS-certified FinOps Cloud Analysts to empower your cost optimization practice.
‍
Resources for Cost Optimization & Financial
Engineering Services‍
‍For businesses looking for guidance in establishing a cost optimization practice or additional support in their current process, cloud managed service providers like Mission offer the tools, people, and process for an effective cost optimization practice.
‍
AWS Cost Optimization & Foundational Best Practices
Mission Cloud Foundation provides effective cost optimization and cloud governance service through a multi-threaded approach focused on savings and efficiency. With Mission Cloud Foundation, business gain a dedicated FinOps Cloud Analyst and access to CloudHealth to VMware. Bring your cloud spend into clear focus with simplified monthly invoicing, regular optimization consultations, and RI & AWS savings plan purchasing assistance. Visit our Mission Cloud Foundation page to learn more about optimizing AWS spend without compromising performance.
‍
Guaranteed 5% Savings on Your AWS Bill with No Long-Term Commitment
With Mission Instant Discount Program (IDP), businesses can get up to 5% off their monthly AWS bill for the first 12 months without a long-term commitment. With IDP, gain a dedicated Mission FinOps Cloud Analyst, access to CloudHealth by VMware, and simplified billing and reporting.
Many private pricing programs for AWS require prepayments or revenue commitments, long-term contracts, and growth clauses. Mission takes a different approach with IDP by providing immediate guaranteed cost savings without long-term financial risk.
‍
Greater Optimization & Savings with Peace of Mind
Mission Reserved Instance Optimization Program (RIO) is an AWS reservation management program that provides greater optimization and savings without day-to-day management or financial risks. Mission purchases and renewals, managing Reserved Instances (RIs) and Savings Plans (SPs) on your behalf.
With no upfront capital expenditure, gain the flexibility and peace of mind to re-architect for cost and performance as your needs change. We will fully manage RIs and SPs in your environment so you can have more time to focus on your business.
‍
Next Steps
If you're ready to take the next step in building confidence in your cost optimization practice and gaining near and long-term sayings, contact us today about a complimentary cost assessment and to learn more about our cost optimization services and solutions. Read more about our cost optimization expertise in a customer success story here.
If you will be at AWS re:Invent this year, connect with Mission in person at booth #3034 in the Expo Hall. Our FinOps Cloud Analysts will be offering complimentary cost assessments. If you are not going to be at re:Invent, you can schedule a complimentary cost assessment with Mission here.
Keep up to date with AWS news
Stay up to date with the latest AWS services, latest architecture, cloud-native solutions and more.
Subscribe Today
Top Categories
Written by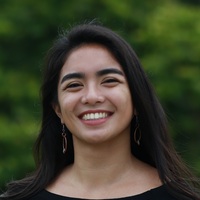 Francesca Jimenez
Cloud Communications Specialist