Mission Ranks Among the Top 15 MSPs for Amazon AWS by ChannelE2E
We are proud to announce that Mission has emerged as the 13th ranked MSP for Amazon Web Services in ChannelE2E's Top 100 Public Cloud MSPs for 2018.
Who said the number 13 was unlucky? It's been just one week since Mission officially launched and today we have been named the #13 ranked MSP for AWS according to ChannelE2E's research of the worldwide public cloud MSP market across AWS, Microsoft Azure, Google Cloud Platform (GCP) and more.
We are extremely excited to be included on this list, and to be ranked #13 out of 100 on our very first MSP ranking as Mission is an honor! Our goal, every day, is to help our customers leverage the power of the cloud. Their success is our success and this recognition demonstrates our ability to do so.
We would like to send a huge thank you to the crew at ChannelE2E for this recognition, and a congratulations to all of the companies that were recognized on the Top 100 list.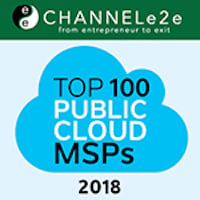 Keep up to date with AWS news
Stay up to date with the latest AWS services, latest architecture, cloud-native solutions and more.
Subscribe Today
Top Categories
Written by

Mark Medina
Vice President, Marketing Mark is a cloud industry veteran with nearly two decades of marketing and product management experience. He most recently was Product Director at DreamHost, and previously served as Director of Digital Marketing at Media Temple (where he was part of the leadership team during an acquisition by GoDaddy). As Mission's Vice President of Marketing, Mark leads marketing content and strategy to strengthen Mission's position in the managed cloud services marketplace. Mark holds an MBA in Finance from Loyola Marymount University.