How Amazon QuickSight Dashboards Can Help You Finally Stop Using Excel
Microsoft Excel has long been the go-to tool for businesses to manage and analyze data. Excel's familiar interface and basic functionality are good enough to fulfill countless use cases. However, as organizations grapple with increasing data volume and the need for real-time insights, Excel's limitations are becoming more apparent. Amazon QuickSight dashboards can solve this problem at a lower cost than competing services such as Power BI, Tableau or Looker.
Amazon QuickSight provides a modern, interactive way to visualize data and get the insights you need. With serverless scaling, broad data source support and an intuitive user interface, QuickSight is a great solution for businesses who need easy access to data and visualizations at scale.
Learn more about this business intelligence (BI) tool, why it's so useful and how you can free yourself from Excel.
What Is QuickSight?
Amazon QuickSight on AWS is a fully managed, cloud-based BI service that empowers organizations to make data-driven decisions at scale. It provides a centralized tool for uncovering insights through modern interactive dashboards, paginated reports, embedded analytics and natural language queries.
QuickSight was launched in 2016 to help customers easily create visualizations and analyze data without extensive expertise or costs. Amazon has continued to expand QuickSight's functionality, giving customers additional ways to extract insights from their data. QuickSight Q, for example, is the platform's natural language capability. Q leverages generative AI to enable users to ask questions in natural language and receive accurate answers with relevant visualizations of their data.
For example, if a user asks, "What are our top selling products in North America?" Q can automatically extract the business terminology and intent from the question, along with the corresponding data from the source. Q returns the answer in the appropriate visual chart without requiring specialized expertise or relying on ad hoc requests to BI teams.
QuickSight Q, combined with large language model capabilities available through Amazon Bedrock, offers more advanced generative BI capabilities. For example, business analysts can fine-tune and format visuals using natural language or create calculations without needing to know specific syntax.
Amazon QuickSight's pricing models, including annual subscriptions, allow customers to select the options that make the most sense for their use cases. For example, per-user-session pricing for Readers and Readers with Q helps companies pay only for actual usage.
Users can easily access data from a variety of AWS resources, including Redshift and S3, as well as other data sources. And because QuickSight integrates with the entire AWS ecosystem, you can be sure it'll fit into your existing setup.
In addition to interactive dashboards with easy-to-use drag-and-drop functionality, QuickSight leverages the Super-fast, Parallel, In-memory, Calculation Engine (SPICE) to deliver interactive data analytics. SPICE is an in-memory data engine that provides fast performance for QuickSight visualizations and calculations. It combines columnar storage, in-memory technologies and machine code generation to accelerate query execution and enable real-time exploration of large datasets.
QuickSight also lets users create, schedule and share paginated reports and data exports. This feature enables the generation and delivery of business-critical information when you need it. You can also embed interactive visualizations, dashboard authoring tools and natural language query capabilities directly into your applications.
QuickSight is often more cost-effective than other providers, especially if your data is already in AWS. Rather than paying for extraction costs, for instance, QuickSight readily provides the visualizations you need. Here are some of the other key features of this BI tool:
Built-in security and compliance: QuickSight incorporates robust security features to ensure your data is protected. It supports encryption, access control and integrates with AWS Identity and Access Management (IAM) for secure data access.
Advanced machine learning features: Take advantage of QuickSights built-in machine learning (ML) capabilities, such as forecasting with point-and-click simplicity. QuickSight automatically excludes anomalies to prevent inaccurate forecasting, and you don't have to clean or prepare data with missing values.
Mobile and web app support: Enjoy mobile and web app support that enables users to access and interact with dashboards and reports from any device.
Pricing options: You can choose between pay-per-use pricing or pay-per-user/user-type pricing, providing flexibility and cost-effectiveness.
Extensive API capabilities: QuickSight provides a wide range of APIs to integrate into your existing applications and workflows. You can also use APIs to migrate from legacy BI solutions programmatically.
Global collaboration and multitenancy: QuickSight enables global collaboration and multitenancy, allowing teams across locations to collaborate on dashboards, reports and data analysis in real time. The service is also localized in 10 languages.
Amazon QuickSight offers enterprise and standard editions, each of which offer robust capabilities for creating and sharing visualizations. The enterprise edition has numerous additional features for business users, including encryption at rest and Microsoft Active Directory integration.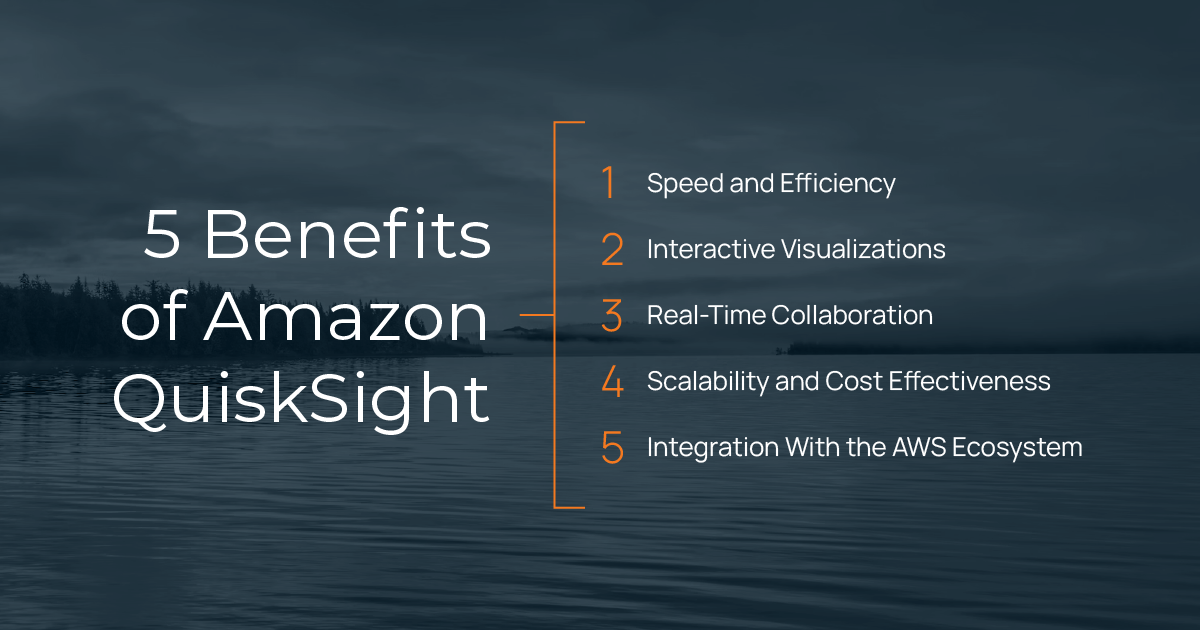 Benefits of Amazon QuickSight
Amazon QuickSight empowers users to gain insights from data without the sluggishness and limitations often associated with Excel. Here are some of the key benefits of QuickSight.
Speed and Efficiency
QuickSight provides fast and efficient data visualization and analytics. Its in-memory calculation engine and optimized querying capabilities lets users explore and analyze vast amounts of data in real time. QuickSight's speed and efficiency also makes it easy to set up. There's no need for expensive upfront investments, and connecting to your Amazon-housed data is seamless.
Interactive Visualizations
QuickSight empowers you to create stunning visualizations with just a few clicks. The platform offers a range of interactive charts, graphs and dashboards that make it easy to understand complex data sets. Whether you need to create simple bar charts or intricate heat maps, the service provides the tools to transform your data into visually appealing and intuitive representations.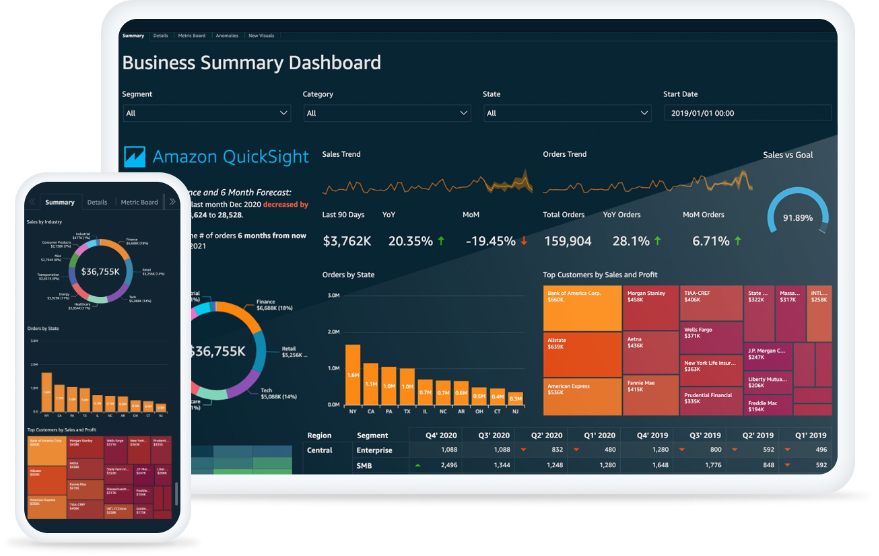 Real-Time Collaboration
Collaborating on data analysis projects can be challenging when relying on Excel files exchanged via email or a shared drive, even as Microsoft has started to enable cloud-based collaboration. QuickSight avoids these challenges by enabling real-time sharing and collaboration. Multiple team members can work on the same dashboard simultaneously while making updates and annotations. This collaborative environment enhances productivity, promotes data-driven decision-making and ensures everyone stays on the same page.
Scalability and Cost Effectiveness
QuickSight takes advantage of AWS' robust infrastructure. You can effortlessly scale your data analysis operations to accommodate growing datasets or an increasing number of users.
QuickSight's pricing models are flexible and mindful of companies wanting to only pay for what they actually use. For example, the service offers Author and Reader roles based on their engagement level with QuickSight. Authors can connect with data sources, create visuals and analyze data, while Readers can only consume interactive dashboards.
Pricing for Authors is a flat rate, based on the selected feature package. With Readers, however, you can choose between pay-per-session pricing or capacity pricing. Most businesses don't need an entire team of Authors and can assign cost-effective Reader roles to certain team members. The ability to scale at reasonable prices helps companies save money, avoid costly infrastructure investments and allocate those resources to other business needs.
Integration With the AWS Ecosystem
QuickSight's integration capabilities provide a unified solution for your data analytics needs within the broader AWS ecosystem. QuickSight seamlessly integrates with AWS services including Redshift, S3 and Athena. The service supports numerous data sources by default, along with other sources via linking or imports.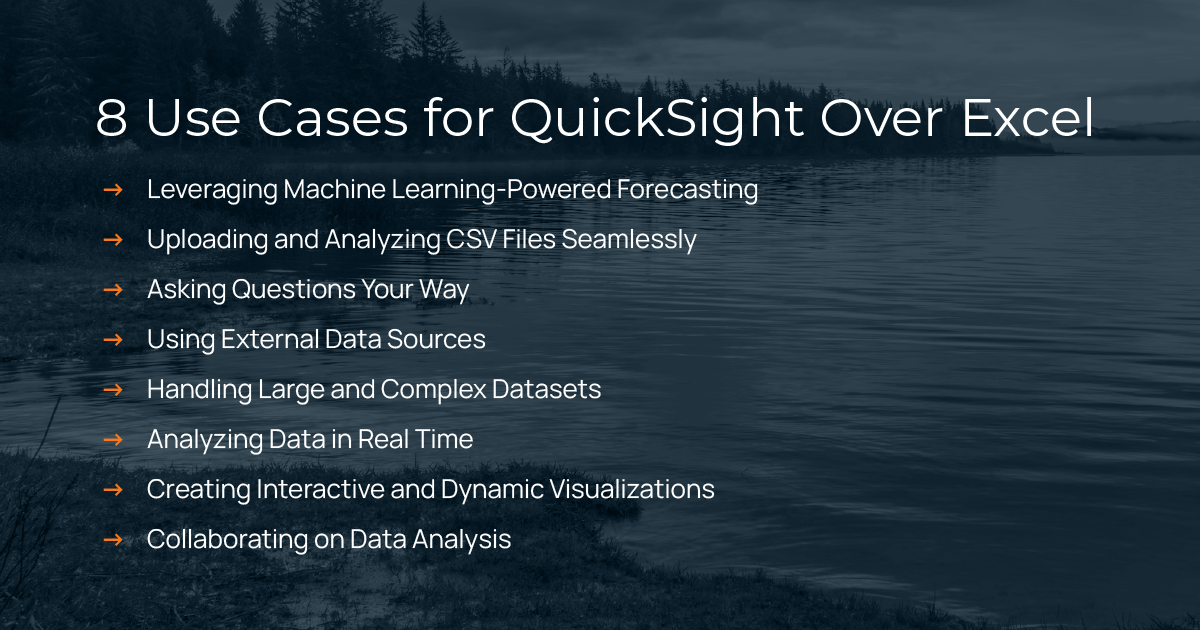 When to Use QuickSight Instead of Excel
Creating dashboards with QuickSight is a quick and easy process. To get started, you'll need to access your datasets. QuickSight integrates with a wide range of data sources, including Amazon S3, Athena, Redshift and Amazon RDS. Once you have your data in place, you can clean it up, create calculated fields, join different tables and schedule updates to keep the data fresh.
When you're ready to start building dashboards, simply select the data and create visualizations. QuickSight also allows you to share and publish dashboards. You can make them publicly accessible or embed them into your applications. With an intuitive user interface, you'll be able to visualize your data quickly and easily.
Here are some situations where QuickSight is a better tool than Excel.
Leveraging Machine Learning-Powered Forecasting
QuickSight uses a built-in ML algorithm to provide you with more robust and accurate forecasts. This feature allows you to quickly and easily generate predictions for any given dataset over a variety of time frames and complex scenarios, such as seasonal changes and outliers.
Excel's forecasting capabilities are limited to linear regression and one-dimensional time series, while QuickSights forecasting feature allows you to generate forecasts based on multiple inputs. Excel doesn't let users visualize their forecasts in the same way as QuickSight, making it more difficult to spot trends and take advantage of opportunities.
Uploading and Analyzing CSV Files Seamlessly
It's easy to upload CSV files and dive into ad hoc analysis with QuickSight, especially when compared to the tedious process of manually entering data into Excel. Unlike Excel's fixed methods, QuickSight lets you freely dig into data, find hidden trends and make quick decisions.
QuickSight also offers more flexibility for uploading text files. You can specify the file header indicator, file format, text delimiter, text qualifier and start row. This allows you to customize the data to your exact specifications without having to manually enter data into Excel. For example, you can make sure that your data is properly separated and formatted according to the file type you use.
Asking Questions Your Way
One of the standout features of QuickSight is its ability to understand and answer questions in a conversational manner. QuickSight Q, powered by ML, interprets the intent behind your questions and quickly provides relevant visualizations.
Unlike Excel, which requires considerable effort to sift through data and create charts, QuickSight's ML-powered engine empowers users to ask questions naturally and receive instant insights. This feature is a game-changer for businesses that want to democratize data analysis. There's no need for specialized BI training, and anyone in your organization can uncover valuable insights with ease.

Using External Data Sources
Whether you're accessing data from Amazon Athena, Redshift, S3 or somewhere else, QuickSight makes it easy to import and analyze data to gain a comprehensive view of your business. The service supports numerous file formats, including Excel files, along with various software-as-a-service data sources. While Excel can import data from external sources, its capabilities are more limited.
Handling Large and Complex Datasets
Excel's limitations become clear when you're dealing with large datasets or complex data structures. QuickSight, however, is purpose-built to handle massive amounts of data efficiently. For example, Excel worksheets can't exceed 1,048,576 rows. In comparison, datasets in QuickSight can support up to 25 million rows (or 25 GB) for Standard edition and 1 billion rows (or 1 TB) for Enterprise edition.
Complex data structures aren't a problem for QuickSight, which handles advanced calculations and provides meaningful insights with ease. This scalability and performance advantage over Excel ensures that QuickSight delivers even against the most demanding data analysis tasks.
Analyzing Data in Real Time
QuickSight excels at real-time data analysis. By connecting to all your data sources, QuickSight can provide near-instantaneous updates more effectively than if you were using Excel. Having the latest data and insights empowers you to confidently make business decisions rather than wait for updates or take educated guesses. For example, you can visualize live analytics when QuickSight is connected to Amazon OpenSearch Service.
Creating Interactive and Dynamic Visualizations
While Excel offers basic charting and graphing capabilities, QuickSight takes data visualization to new heights. QuickSight's interactive and dynamic visualizations allow you to explore data from multiple angles and uncover deeper insights.
From interactive charts and graphs to heat maps and geospatial maps, QuickSight offers visually appealing and intuitive representations that can be customized, animated and filtered on the fly. This level of interactivity and flexibility surpasses Excel, enabling stakeholders to quickly understand complex datasets and make data-driven decisions with confidence.
Collaborating on Data Analysis
Even as Microsoft Excel has become a cloud-powered SaaS, its file-based approach to collaboration leads to version-control issues and fragmented workflows. QuickSight simplifies the process by enabling real-time sharing and collaboration on dashboards and reports.
Multiple team members can work on the same dashboard simultaneously, making updates and annotations in real time. This collaborative environment fosters teamwork and productivity while preventing mistakes stemming from people working with different data.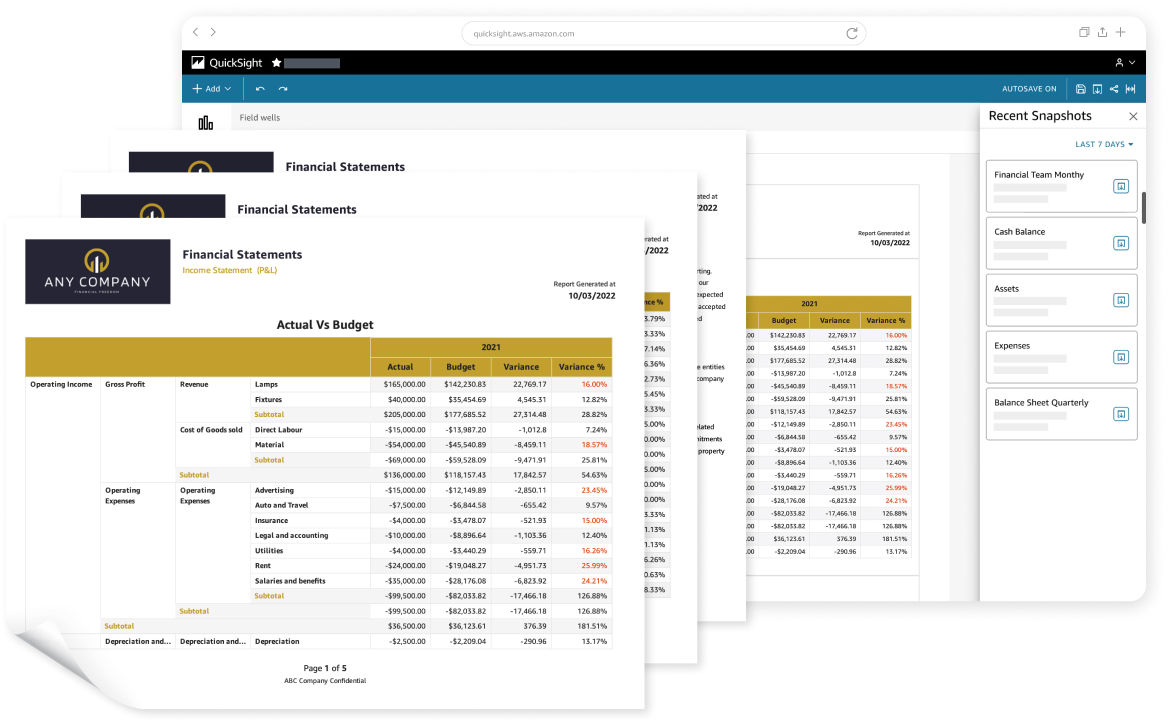 Make QuickSight a Part of Your AWS Ecosystem
QuickSight combines the familiar capabilities of traditional BI tools with the distinct advantages of the cloud, all while seamlessly integrating with the broader AWS ecosystem. The service enables a unified and comprehensive solution for importing data, performing in-depth analysis and visualizing key insights that drive your business forward.
These insights don't have to stay siloed, as you can easily share dashboards with internal or external stakeholders without creating unnecessary risks. Make your dashboards public or embed them into your applications for authorized users to access and interact with.
QuickSight is especially powerful when you are already using AWS for your data infrastructure. If you're looking to use your data more effectively using QuickSight dashboards, work with an experienced AWS partner such as Mission Cloud. This partnership can get you started and optimize your setup so you can make more informed, data-driven business decisions.
Along with successfully supporting a wide range of customers with their QuickSight needs, Mission Cloud achieved the AWS Service Delivery Designation for Amazon QuickSight. This designation signifies Mission Cloud's extensive and AWS-recognized understanding of best practices and validated success in delivering Amazon QuickSight implementations to businesses.
Our team of experienced consultants specialize in AWS and QuickSight, helping businesses unlock actionable insights and maximize the value of their data. Learn how to incorporate BI and machine learning into your decision-making process with Mission Cloud.
Keep up to date with AWS news
Stay up to date with the latest AWS services, latest architecture, cloud-native solutions and more.
Subscribe Today
Top Categories
Written by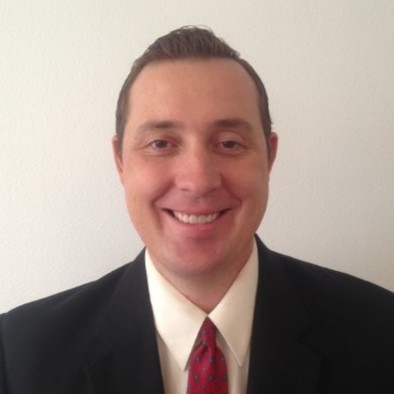 Ryan Ries
Practice Lead Data Science and Engineering