Mission Talks: AWS Infrastructure Session 2020 Insights [Video]
Transcript
Jonathan LaCour:
Welcome back, Jaret.
‍

Jaret Chiles:
Hey, Jonathan. Glad to be here again.
‍

Jonathan LaCour:
Yeah, so I'm really excited. Today we're going to be talking about the infrastructure leadership session that just happened at re:Invent 2020. So, for those of you who are joining us for the first time, if you haven't seen our first two conversations that we posted you can check those out at www.missioncloud.com/blog. We'll have a bunch more content coming but the purpose of these is really less to be a recap. If you want to read a recap, there's going to be 1000 blog posts out there all over the internet about what was discussed. What we really want to do is kind of react a little bit. I kind of like to call it the "unboxing" of these sessions. It's a little bit more interactive and fun. What are the implications of all these things? And I think the cool thing about this particular session is, you know, it really shows the pattern that AWS has, which is they start everything with their culture philosophy and vision: this is who we are, and what does that mean for you? And that they did that here.

They started off with some really great quotes that you will hear repeatedly from AWS. "There is no compression algorithm for experience" as well as "Everything fails," which is something that Werner Vogels has said. "Undifferentiated heavy lifting" is also really interesting and they talked about all the stuff that AWS does for you so that you can focus on innovating. So they talk about managing a global data center presence, power, cooling, global supply chain. AWS just does all this better than you're going to be able to. So, you know, bring it on. Let us do the undifferentiated heavy lifting.

It really does drive in nicely to the next topic where they talk with the NFL CIO, which was really an incredible conversation. She really built on what they have been doing in this new world. And I think the cool thing there is the point that she drove home to that the world is forever changed, which we hear about this all the time, but I think it's cool to see in action what that looks like. Obviously the NFL draft was their example. They typically do that as a live event, they have ESPN coverage, they have all this. But, because people are at home, people are wanting, you know, more and they're in front of their computers and they want a more digital experience and more virtual experience. They didn't plan for that and they were able to make it work. And they said, I wrote down the number, 55 million people streamed the NFL Draft during that week. 15 million on the first day alone, which is, you know, it's incredible.
Jaret Chiles:
That's amazing.
Johnathon LaCour:
And it was all powered by AWS. The money, quote, for me, was "AWS cloud infrastructure was our resilient backbone."
Jaret Chiles:
I've seen that with clients in a number of different ways. You talk about the impact. It's the way it impacts your clients, but also the way it impacts your own personnel. You see cases where folks have big corporate offices, they have private lines in their data centers, but they weren't prepared for the amount of bandwidth they needed or the commodity internet for all of a sudden their whole workforce to go mobile in addition to the regular client traffic in there. And so having that cloud infrastructure helped to alleviate some of that responsibility for many folks as well.
Jonathan LaCour:
Yeah, and it's putting a strain on everybody, right. Movie theaters are going to be fundamentally changed, corporate real estate is fundamentally changed, sports leagues, which we talked about. We have a couple of, we have a lot of sports customers actually, professional sports customers, and they have very specific pivots that they've had to make, like live events. The other one that always strikes me is, can you imagine what it must have been like for DoorDash and GrubHub and Postmates to go through this year. The incredible amount of scale that they had to achieve very, very quickly. It's terrifying. So, you know, nothing will ever be the same. You have to be ready for this kind of thing to happen again.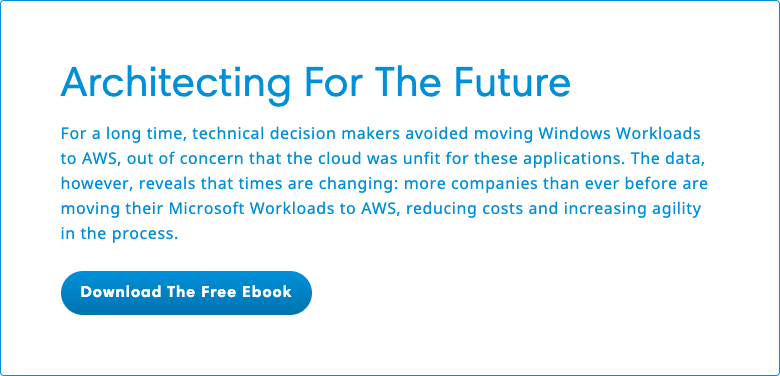 Jaret Chiles:
I mean imagine how explosive it is on their front. Those even, you know, technology roles, necessarily, not all of the roles where they've seen explosion, just even their workforce out there, delivering meals or what have you. But, that same thing is impacted on the technology side too. Right. I mean, if all of a sudden, you've had a big transformational shift in how you're running your infrastructure, how you're running an operation - you potentially have a huge skill gap there you have to go fill very quickly.
Jonathan LaCour:
Absolutely and we weren't left out of this. Mission had to have a huge pivot this year. I can tell you right now, what I do on a daily basis now is completely different than what I did on a daily basis at the beginning of this year. So, you know, early in 2020 we saw this kind of onslaught coming and said, what can we do? We have customers; they need to make it through this. The world is going to be different. What are the most important things we can do for them? So we launched this huge set of initiatives all designed around cost optimization and helping businesses make it through this next phase, right. We saved customers millions, which is pretty cool. And so discount programs, cost optimization, like really driving that forward. But we also saw a lot of, you know, kind of requests to do accelerated transformation initiatives because there's only so much you can do with pure cost optimization. Right.
Jaret Chiles:
Absolutely, I mean both of those, right. Cost optimization is always on people's mind as well as transformation, but what you effectively have is people have these two or three year long roadmap of how they wanted to handle, you know, various controls, strategic approach, their Cloud transformation - and it got pulled into like six months. And we still see it. I think, you know, we've seen transformation pipelines explode. But we're really excited about it, we're prepared for that, and that's the right thing. We will be able to help people get to the cloud sooner or expand their kind of cloud practice more quickly and they will reap the benefits of that. I think pulling that forward will definitely be a greater return on investment than having that span out over three years. Yeah.
Jonathan LaCour:
Agreed. And I think the other thing that this all has really surface is, frankly, there's a lot more connectedness to a lot of these different initiatives than I think I even personally realized. So you know we've been doing managed services since our founding, right, but we've often done them in sort of a discreet manner and what we've discovered is customers really like, there's a lot of interconnectedness here. So we launched Mission Cloud One, a month and a half ago now, or two months ago, and it's really designed to solve that challenge. It's a holistic approach. You can't just do cost optimization over here and no transformation and no monitoring, no observability or visibility into your environment. You've got to take the whole shebang and look at it all at once and that's been huge as well. So cost optimization, governance, 24/7 support, infrastructure management and talk about undifferentiated heavy lifting that we're talking about today. It's sort of like exactly the same thing. AWS' message was the world is different now and If you want to thrive in this environment, you need to take advantage of the resilient backbone that is AWS, the undifferentiated heavy lifting that they can do for you. And I think it's really great because they are giving the exact same message that we tell our customers, like let us do more for you. You focus on innovating, doing amazing things with your app; we will advise you on how to drive that change and guide you down the path. But let us handle the management of your environment. Your team knows your app better than we do but we know AWS better than anybody.
Jaret Chiles:
Some of this messaging has been around for a long time, but I think people are really starting to embrace it. Right. Running a data center, you know, if that's not your core business focus, it's not a differentiator for your business anymore. Maybe back in the 90's, you can put on your website or whatever your real brochure site like how your uptime was but that's just expected now. It's not differentiated anymore so that's something you'd commoditize and not use your finite special resources and your focus as a strategic leadership team, even, to drive. And so that's where that undifferentiated heavy lifting really comes in and makes a big difference - focus.
Jonathan LaCour:
Yeah and later on in this session, there was an interview with the Snap SVP, and he was talking about the same thing. He was like, "I love how I don't have to allocate any engineering time to building out my infrastructure."
Jaret Chiles:
Right.
Jonathan LaCour:
And that's incredible and it also brings back again the interconnectedness of all of these things. So they talked about scale out computing. And this is like, you know, this is a great opportunity to geek out on like process architecture and all this stuff.
Jaret Chiles:
They went into the weeds on this one. Yeah.
Jonathan LaCour:
But I love that because to me, you know, I've been in computing for a long time and I've also been writing code for a long time. And so I know that it's funny. We saw this sort of multi-core future arriving, as you know, kind of our ability to just drive scale and performance with bigger, better, faster cores was kind of going to, we knew this was going to die at some point. But the funny thing is, you know, programming is just, it's hard. It's hard to do. You know what I mean? So it's like, I can't take advantage of all these cores. And so, you know, it's this horrible choice that like the Intel's of the world, and even AMDs of the world had to make where it's like - I'm going to build a processor that has both extremely fast individual cores and is a compromise to be able to have multiple cores and handle, you know, things like SMT they talked about. But it's just like this big bucket of compromise.
Jaret Chiles:
I was going to say, compromise was the key word there for sure. Trade offs and trying to do it off.
Jonathan LaCour:
Yep. And, you know, AWS is leaning into it and if I'm Intel I'm not super pleased about the trends and the world that we're seeing right now. With Apple, kind of, you know, going forging their own path on the desktop and then phones and now you know and Video just bought Arm which is huge, right.
Jaret Chiles:
Good stuff.
Jonathan LaCour:
And, you know, AWS putting out Graviton2, focusing on scale-out. You know, microservices workloads that are perfect for the cloud and it's pretty interesting.
Jaret Chiles:
It was really interesting seeing some of the benchmarking graphs too, you know. It doesn't seem like that long ago it used to be so exciting between every CPU release and seeing big jumps. But at some point, it just started to feel kind of incremental, very linear, not super exciting. And what they showed today was definitely, I think, in his own words, was a "nonlinear improvement." A massive performance improvement available and I think that's exciting to see again.
Jonathan LaCour:
Yep and at lower power and lower costs because you're not having to pay the giant Intel tax. Right, and so this is a real shot across the bow is that interconnectedness right. If I can get same-as or better performance at a fraction of the cost, but it requires me to do, you know, a small amount of transformation internally or recompile here, you know, that's totally worth it.
Jaret Chiles:
Yeah.
Johnathon LaCour:
But it's all interconnected.
Jaret Chiles:
A lot of cost optimization themes and we saw it earlier this week, or was it last week, when you're talking about the new general purpose, Elastic Block Storage and things like that. We're starting to separate the way that you can choose Iops versus capacity and now we're seeing more performance gains on the CPUs. They showed the cost benefits of this versus the N5. So I mean, I think we said it before already, but there should be a lot of cost optimization exercises coming off the back end of all these launches and announcements.
Jonathan LaCour
It's gonna be a fun 2021 for us, I think.
Jaret Chiles
Good for everybody. Everybody wins.
Jonathan LaCour
Yeah, for sure. I guess the thing that to me also was really interesting is, at the end of the day, they opened with culture and values and they ended with culture and values, but in different ways. Right, so they open talking about undifferentiated heavy lifting. You know, kind of everything breaks and everything fails, no compression algorithm for experience, and what that means to us.
Jaret Chiles
The blast radius.
Jonathan LaCour
Right. But at the end, they also said their core values are also about efficiency and about, you know, doing good in the world and about, you know, environmental and social responsibility which I thought was really valuable. They didn't spend a small amount of time on it. They spent the last, like, 20 minutes on this - which is pretty impressive.
Jaret Chiles
It was and I think it's really good. I mean, this should be top of mind everybody. I think it is top of mind for most folks and seeing that it helps you kind of find your own as a company. At Mission, you see the connectedness and the cultures of what's important to us and core values and you know we reflect on our own initiatives and what we do to also be environmentally and socially responsible. It kind of makes me feel really blessed to be in this ecosystem and understand the alignment that we're all solving for; some bigger picture things trying to make our own little dent in the universe.
Jonathan LaCour
Yeah for sure and 2020 has been sort of a crucible in that way. Right, social justice issues and we've been at the forefront there, which I think has been really great and I'm proud of that. And, you know, AWS is choosing to be on the forefront on the environmental side, which I think is really awesome and I think it's good. Like, to me, this is an encouragement and the signal from an industry giant, right, like every organization should be mission-driven. We should all have, we're doing all these things, not just for, you know, creating a viable business, but also because we want to make a dent, right, on the world and I love that they close with that because it really makes you feel like, okay, at the end of the day, while we're geek out over computing in infrastructure and all sorts of fun and exciting stuff, bottom line is we do have an opportunity to do cool things and amazing things with technology that can actually make a positive impact. So, we're going to use that voice not be afraid of it.
Jaret Chiles
Yeah. I like how you said mission-driven. Was that intentional?
Jonathan LaCour
No. I'll take it, I guess.
Jaret Chiles
There you go.
Jonathan LaCour
That's part of why we picked this name.
Jaret Chiles
There we go. Let's achieve yours.
Jonathan LaCour
Good stuff. Well, I think we kind of covered the highlights there. What a really fun and interesting session. I really liked how there were a lot of conversations with very smart, intelligent people: the NFL, Snap, really really cool. Looking forward to doing this again, Jaret.
Jaret Chiles
Absolutely. This has been a blast. Those of y'all make sure you check out some of our previous ones too if you haven't already and we've got more to come.
Jonathan LaCour
Awesome. Thanks a lot.
Jaret Chiles
Thanks.

Keep up to date with AWS news
Stay up to date with the latest AWS services, latest architecture, cloud-native solutions and more.
Subscribe Today
Top Categories
Written by

Mission
Mission is an AWS Premier Consulting Partner that helps businesses architect, migrate, manage & optimize their AWS cloud.