Welcome To The World Of Acronyms!
Maybe you are not a technologist, but somehow you are related to the industry. Is abbreviated dialect making it even harder to comprehend some technical jargon? If yes, we have exactly what you need.
Ever wonder what SaaS, IaaS or PaaS means? Cloud computing has been the hottest technical topic of discussion in offices, on social media, and the internet in general. The advent of the Cloud has allowed the term "as a service" to flourish in the field of technology, making it almost a necessity to understand what is actually meant. Fortunately, two articles in particular have made it easier to grasp. Pizza as a Service uses Pizza – yes you heard that right – to demonstrate the differences between on-premise, IaaS, PaaS, and SaaS. Add in some G2 flavoring with a dash of Amazon Web Services, and you have a summary explanation anyone can grasp!
So let's begin to try and distinguish the concepts of Software as a service, Infrastructure as a service and Platform as a service using the example of everyone's favorite food- Pizza, alongside a more traditional explanation.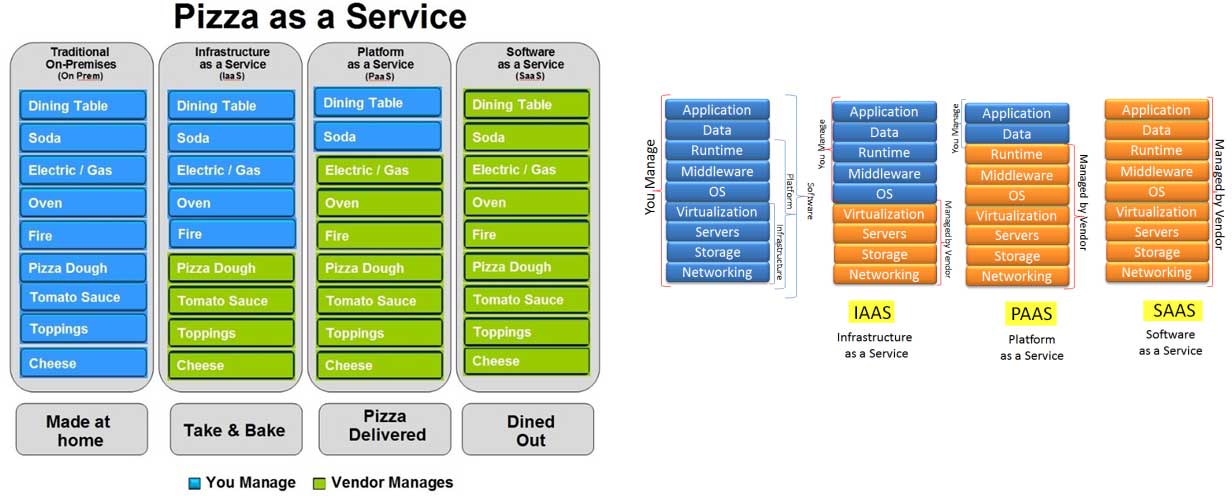 Source: https://www.linkedin.com/today/post/article/20140730172610-9679881-pizza-as-a-service
1) Traditional On premise IT Infrastructure:
You make your own pizza at home
Thus, you are responsible for buying all ingredients and preparing the dough.
You are the exclusive owner of everything in this process.
In this case, you manage everything including the hardware, storage, runtime and application environment.
2) Infrastructure as a Service (IaaS)
You buy an uncooked or "take and bake" pizza.
Here, the dough and other ingredients on the pizza are already available to you, (since you have purchased them separately). However, you need to cook it and serve it by yourself, using your resources.
Thus, the vendor owns some parts of the process, while you own other parts.
In this case, you use vendor hardware on rent through the internet that includes off-site servers, storage and networking hardware but run your own applications with the required operating system and runtime. Thus, you do not have to worry about maintenance costs and office space.
For example: Amazon EC2
3) Platform as a Service (PaaS)
You order Pizza at home, easy and convenient (isn't it what most of us do anyway?)
The pizza is fully prepared, with ingredients and toppings customized to your preference and delivered to your house. However, you use the infrastructure or resources in your house to serve/eat the pizza.
Thus, the vendor owns almost everything in this process while you would have to take up some minor responsibilities.
The vendor provides you with hardware and application runtime while the only responsibility you have is to manage your applications. Website hosting and application development are certain examples of PaaS solutions that vendors provide.
For example: Amazon S3, Amazon Elastic Beanstalk
4) Software as a Service (SaaS)
You find a nice restaurant or a pizza joint and dine out.
In this case, you are having pizza not at your house, but at a diner or restaurant. Thus, you are not responsible for any ingredients or the cooking process. You have external resources to implement all the tasks involved in making and serving the pizza.
In this case, the vendor owns and manages the entire process, you do not own anything.
Applications are hosted on a remote server and accessed over the Internet. For example: DropBox, GoToMeeting, Netflix etc.
Mission is an AWS advanced consulting partner and has helped businesses to implement different features of cloud computing by deploying Amazon EC2, Amazon Elastic Beanstalk, Amazon RDS and Amazon S3 among others. Learn more about Mission's work at Success Stories.
References:
Keep up to date with AWS news
Stay up to date with the latest AWS services, latest architecture, cloud-native solutions and more.
Subscribe Today
Top Categories
Written by

Cloud Engineer
Mission Cloud