What Is Amazon QuickSight, and How Does It Uncover Insights?
Every modern business collects data, but the most effective businesses know how to analyze that information and make decisions with it. If you're looking for a sophisticated yet cost-effective tool that helps you glean insights from your data, Amazon QuickSight might be the answer. And if you're wondering, "What is Amazon QuickSight?" you're in the right place.
Amazon QuickSight is an analytics service that provides business intelligence (BI) and data visualization capabilities to help you make sense of your data quickly. Organizations across industries are using QuickSight's dashboards and other features to get more out of their data.
The National Football League (NFL), for example, uses QuickSight to power its players' Next Gen Stats. Global mining company Rio Tinto uses it to find critical insights for risk management. Meanwhile, Siemens AG leverages QuickSight to create operational dashboards that automatically scale to their needs.
These examples offer a glimpse of the value this service can provide. Learn more about Amazon QuickSight, its features and benefits, and how to get the most value from the service.
What Is Amazon QuickSight?
Amazon QuickSight is an analytics service that offers fast, easy-to-use and cost-effective BI and data visualization capabilities. QuickSight's interactive dashboards and visualizations for data exploration help companies uncover actionable insights within their data. The service takes in data from sources such as databases, files or streaming data, among other sources.
As a fully managed cloud-based tool, QuickSight replaces traditional on-premises BI tools that require significant upfront investment in hardware. With this type of service, you also save in the long run on software licenses and IT resources required by on-premises options. QuickSight also allows users to access and analyze data in real time — an improvement over complex data modeling and extract, transform and load (ETL) processes.
Benefits of Amazon QuickSight
Amazon QuickSight helps businesses of any size, in any industry and at any point in their machine learning (ML) journey. Here's a closer look at the key benefits of using Amazon QuickSight.
Compatibility with Data Sources
Amazon QuickSight is compatible with many data sources, including on-premises databases, APIs, internet of things (IoT) devices, CSV files and software as a service (SaaS) applications. QuickSight also works with various data storage services, including Amazon S3, and can query relational databases such as those powered by Presto.
QuickSight also supports incremental data uploads, enabling end users to upload new data to a S3 bucket or file.
Powerful SPICE Engine
The service's Super-fast, Parallel, In-memory Calculation Engine (SPICE) enables you to analyze large volumes of data quickly and efficiently. SPICE uses in-memory calculations to speed up query response times, automatically optimizes queries to minimize data processing and caches data for faster access.
With SPICE, you can perform ad hoc analysis, create data visualizations and run interactive dashboards on large datasets — all while maintaining fast query response times.
Easy to Use
QuickSight's intuitive, drag-and-drop interface makes it easy to create and share interactive dashboards, visualizations and reports. You don't need to be a data expert or staff extensively in this area to get started with data analysis.
Amazon QuickSight also automatically formats your data for optimal visualization. You get professional-grade visuals without the need for extensive in-house design or programming skills. This leaves more time and budget for analyzing data and applying ML insights rather than needing to clean up low-quality visualizations.
QuickSight is easy to use across geographies, with 10 major languages supported. And with free iOS and Android apps, the service is accessible to employees on the go, in the office or anywhere else.
Cost-Effective
Amazon QuickSight offers numerous pricing options, including enterprise and standard editions, as well as discounts for bulk purchases and annual subscriptions. Pay-per-session pricing models make QuickSight an affordable choice for businesses of any size. With this approach, you only pay for what you use, with no upfront costs or long-term commitments.
Pricing varies based on usage and commitment. Individual authors can create and publish interactive dashboards for $9 per user per month with the standard edition. For enterprise customers, author pricing ranges from $18 to $34 per month. The pricing for reader accounts is $0.30 per session, with a $5 to $10 max per month.
Authors and readers both have the option to include Q, which allows them to explore data and topics simply by asking questions. Those accounts are charged higher monthly fees, as well as a $250-per-month Q base fee.
The pay-per-session model is more cost-efficient than other options, such as Power BI or Tableau. The former offers Power BI Pro for $9.99 per user per month, as well as Power BI Premium. The premium tier includes per-user or per-capacity pricing, with options of $20 per user or $4,995 per capacity per month.
Tableau, in comparison, offers a Tableau Creator tier for individuals for $70 per user per month. For organizations, it offers tiers and features ranging from $15 to $70 per user per month, with some additional considerations and restrictions.
QuickSight leverages AWS cloud infrastructure ‌to help businesses avoid the infrastructure costs associated with storing and analyzing large amounts of data. QuickSight's ability to integrate widely also saves time and money on expensive data integration tools.
Available Integrations
QuickSight integrates with a range of AWS offerings, including Amazon Redshift, Amazon RDS and Amazon S3. The service also integrates with third-party services, including other popular BI tools such as Tableau Software and Microsoft Power BI, giving you even more options for analyzing your data.
QuickSight can also be easily integrated into custom applications, and visualizations are simple to share even with non-AWS users. Such connectivity and compatibility give businesses a complete, up-to-date picture of their data while making data analysis and reporting simpler and quicker. The result is a single source of truth and the ability to make decisions without worrying about missing or siloed data.
High Scalability
QuickSight is built on AWS, which is known for its ability to handle large-scale data processing and storage. QuickSight shares AWS' scalability and is ideal for businesses that need to quickly scale their data analysis and reporting capabilities.
Health care and finance are just two of the industries that benefit from a service that can regularly handle large volumes of data. For example, in response to the COVID-19 pandemic, a growing number of healthcare organizations are using genetic sequencing to monitor and contain harmful pathogens. ICBiome used QuickSight to provide hospital investigators and other users with easy access to meaningful analytics and visualizations to track pathogens coming through their hospitals.
QuickSight is also valuable for businesses with rapidly evolving data needs. For example, with QuickSight's elastic scaling and parallel query execution, businesses can easily adjust their resources and processing power to meet demand.
Strong Security
Amazon QuickSight comes with a range of security features, including data encryption, access controls and audit logging. Another feature is QuickSight's support for AWS Identity and Access Management (IAM), which allows businesses to manage user access to QuickSight resources, including data sources, dashboards and analyses.
Because the service is built on AWS' secure cloud infrastructure, you also get AWS security measures such as network firewalls, intrusion detection and prevention, and continuous monitoring and testing.
QuickSight also supports secure access control with fine-grained user permissions so that only authorized users have access. This helps confidential business information stay that way. For businesses that need to meet compliance regulations, QuickSight is eligible for FedRAMP, HIPAA and more.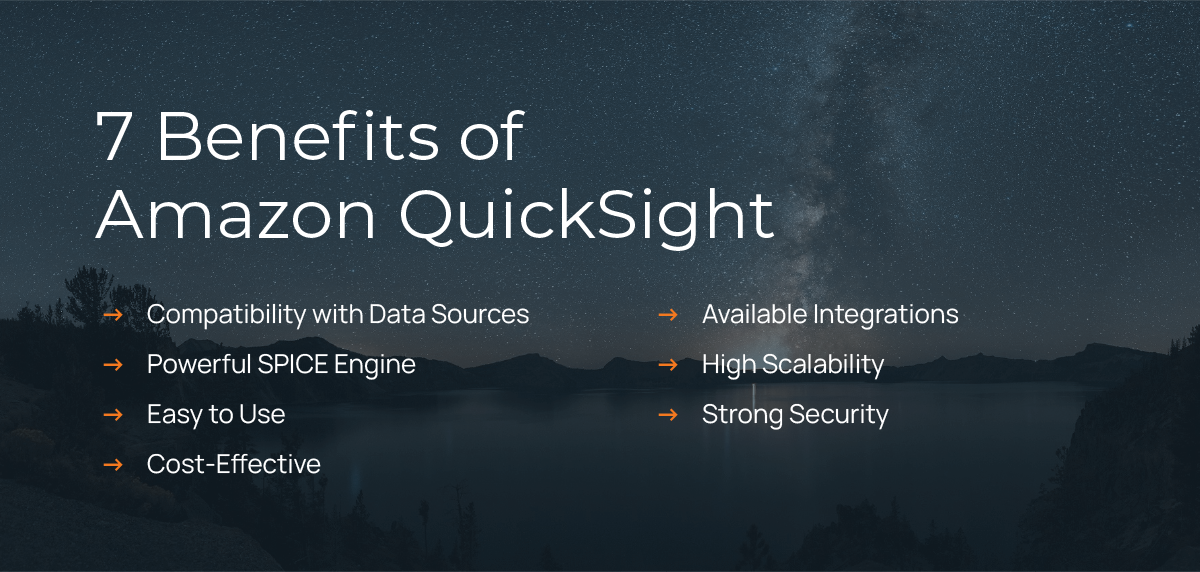 How to Use Amazon QuickSight
Using Amazon QuickSight to analyze and visualize your data is a straightforward process that involves a few key steps. Here's a closer look at how to get started with Amazon QuickSight.
Understand the Interface
Start by understanding Amazon QuickSight's user interface. The user dashboard provides quick access to visualizations and data sets, as well as links to features such as sharing visuals or personalized settings.
The dashboard is customizable, allowing users to select different metrics or dimensions for each visualization they create. The interface is intuitive, making it easy for users to navigate and find the features they need quickly.
For example, QuickSight comes with drag-and-drop features, enabling users to easily build and customize their visuals. It also offers pre-built templates and visualizations for users who need professional quality visuals but are short on coding or design skills.
Create and Refine Data Sets
Users create data sets by connecting a data source or uploading a file to the platform. Once connected, users refine their data using methods such as filtering, pivoting or joining tables together. Then, they explore that data further with visualizations.
Amazon QuickSight's data preparation capabilities are intuitive, enabling users to clean and transform data quickly and easily. The platform supports a range of data sources, including Amazon S3, Amazon Redshift, Amazon RDS and non-Amazon sources.
Build and Customize Visuals
Amazon QuickSight offers drag-and-drop interactivity, making it easy to build and customize visuals regardless of your experience level. The platform's visualizations include charts, graphs, tables and maps. Amazon QuickSight Embedded Analytics themes help you customize visualizations according to personal preferences and business needs — including changing colors or adding labels for readability.
Analyze Data
QuickSight provides advanced analytics capabilities, such as forecasting and anomaly detection. These features allow users to gain a deeper understanding of their data and previously hidden insights and patterns. Users can personalize their data analysis through custom dashboards, reports and emails.
QuickSight's forecasting feature uses ML algorithms to predict future trends based on historical data, as well as spot unexpected and anomalous data patterns. You can also ask data-related questions through the Amazon QuickSight Q offering.
Sharing Visuals
Amazon QuickSight allows users to share visualizations internally or through website and application embedding. You control access and permissions, such as whether other users can download or edit visuals or export data. In addition to sharing visualizations, you can receive alerts about changes in the data.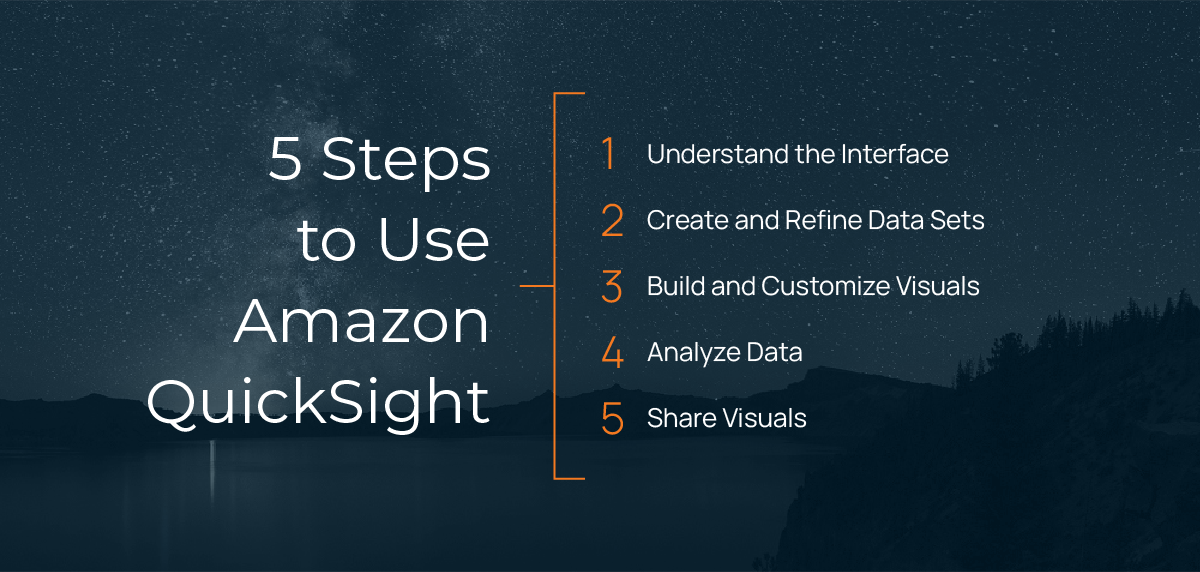 Maximizing the Value of Amazon QuickSight
What is Amazon QuickSight? A user-friendly, flexible platform for data visualization and analysis. The service offers many ways for you to add data, integrate with other services and customize your data visualizations to identify trends, patterns and outliers in your data.
If you're already using AWS and need to visualize and understand your data, Amazon QuickSight is an AWS service with powerful integrations that helps you store, process and analyze data from almost any data source. Even if you're not already using AWS, it's easy to start using the service with your existing datasets. QuickSight also integrates with popular BI tools to enable seamless collaboration and analysis of data across different platforms. Integrations extend the value of QuickSight, creating new applications and use cases for businesses.
Succeeding with Amazon QuickSight is easier with a trusted partner. As an AWS Premier Tier Services Partner, Mission Cloud has also earned the AWS Service Delivery designation for Amazon QuickSight. This designation signifies the company's expertise, commitment to best practices and validated success with several customers.
Mission Cloud offers the insight and support you need to ensure that QuickSight integrations are properly configured and optimized. With Mission Cloud's support, you'll realize the greatest return on your BI and data visualization investments.
As an AWS Premier Tier Services partner, Mission Cloud bridges gaps in skills and expertise, leverages the full power of your data and makes sure your company is in compliance. Discover five reasons to work with an AWS partner for data, analytics and machine learning.
Keep up to date with AWS news
Stay up to date with the latest AWS services, latest architecture, cloud-native solutions and more.
Subscribe Today
Top Categories
Written by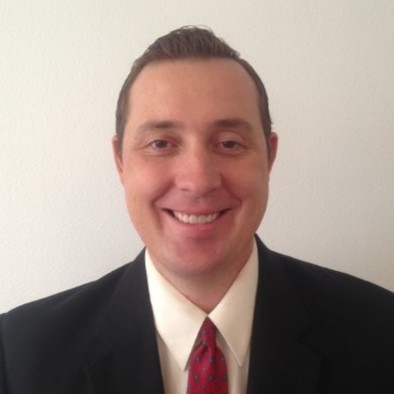 Ryan Ries
Practice Lead Data Science and Engineering