Mission Recognized by Clutch as Top Managed Service Provider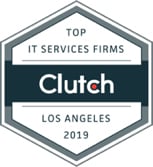 As the managed service provider (MSP) industry continues to heat up, customers might have an increasingly difficult time ascertaining which company provides the right partnership for their business goals and needs. Here at Mission, our work is simple: We combine personal know-how with professional management of the latest technologies and tools around for exceptional IT services and cloud support.
How can potential clients know that Mission is the best partner for them? Look no further than Clutch's recent announcement of the top IT services companies. We've been listed here among reputable firms, as well as one of Los Angeles' premier managed service providers. Mission has topped this list in a field with more than 100 firms! This award was given to us by Clutch, a B2B market research firm. Each month, their team selects the top performing companies on the site. Their selection criteria include a variety of data points, but client feedback is central.
Mission's exceptional client service is demonstrated by the comments left by our clients in the Clutch reviews.
"From a response standpoint, the number one thing I've looked for in a vendor is the ability to never make me think about the fact that a particular project is taking place. Mission has 100% achieved that goal. I have full confidence in the fact that Mission is delivering the website professionally and to scale," said the client, a marketing director at an animation studio. "I have no complaints at all. Mission is able to communicate goals in both a planned and ad hoc perspective, which is important. I feel completely informed."
"In general, I have nothing but good things to say about Mission," beamed another customer, the chief technology officer at a consumer services provider. "Mission was able and willing to help from the very first engagement, which made for the best experience I could have asked for in the industry. It's been great since then."
The Manifest and Visual Objects, sister companies to Clutch, have also heralded the hard work of our team. Business news website The Manifest now lists Mission among Los Angeles' top IT consulting firms, while the portfolio focused platform, Visual Objects showcases examples of work from creative agencies and developers alike.
Our team is honored to have received this recognition for our managed services expertise. We look forward to working with new clients to help them overcome their business challenges. If you want to learn more about our team, approach, or expertise, please feel free to connect with us here. We're excited to talk about how we can help your business grow and succeed!
Keep up to date with AWS news
Stay up to date with the latest AWS services, latest architecture, cloud-native solutions and more.
Subscribe Today
Top Categories
Written by

Jamie Morgan
Online Community & Events Specialist