Mission's 2019 End-of-Year Recap
What a year! 2019 has been full of major milestones and accomplishments for Mission. Let's look back at some of the highlights.
Major Announcements
Mission Achieves Premier Consulting Partner Status in the Amazon Web Services Partner Network
Mission announced that it had APN Premier Consulting Partner Status. This differentiates Mission as an APN Partner who has demonstrated expertise in helping customers design, architect, build, migrate and manage their workloads on AWS.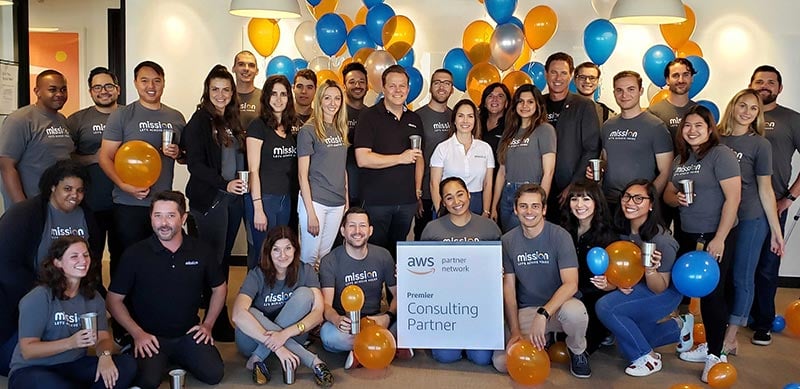 The Mission team at the Los Angeles office
Mission Achieves AWS Microsoft Workloads Competency Status
Mission enables customers to seamlessly migrate Microsoft workloads to AWS and continually optimize their performance by leveraging AWS tools.
Mission Secures $15 Million in Additional Funding from Great Hill Partners to Fuel Organic Growth Through 2020Achieving unmatched success in creating new customer opportunities with AWS in 2019, Mission will put new capital toward expanding its team, technology, system, and go-to-market strategies.
Mission Introduces Enterprise Support to Help Customers of Any Size Expertly Optimize Their AWS EnvironmentBacked by AWS Support, Mission Enterprise Support provides industry-leading SLAs, proactive best practice guidance, and consulting expertise 24/7.
Major Awards
Mission Wins CRN Triple Crown Award for Exceptional 2019 Performance as a Trusted AWS Solutions Provider
The CRN Triple Crown Awards recognize extraordinary IT solution providers; Mission earns distinction for strong revenue growth and breadth of technical certifications.
Mission and CEO Simon Anderson Earn Comparably Award for Best CEO
The honor is based on anonymous employee sentiment gathered across 50,000 U.S. companies.
Mission Earns Top Honors for Employee Perks and Benefits
Based on anonymous employee sentiment gathered across 50,000 U.S. companies, Comparably names Mission a top workplace for employee benefits.
Standout Conference — AWS re:Invent
Mission Brings Strong Momentum in Managed Cloud Services to AWS re:Invent 2019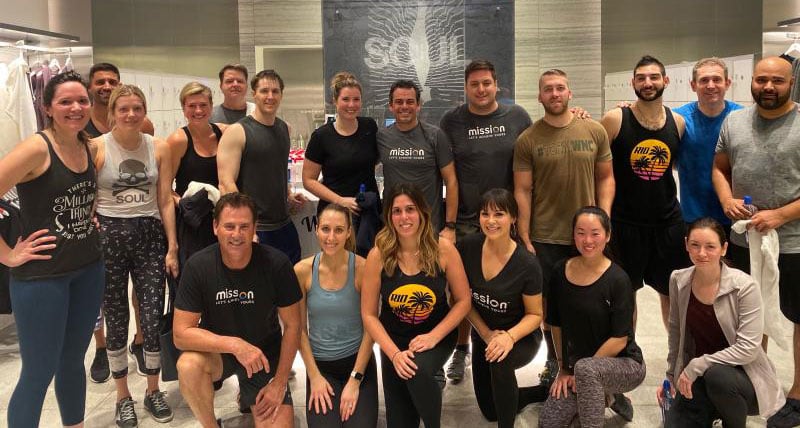 Mission and guests work up bright and early for a SoulCycle ride at AWS re:Invent
Webinars
Here are a couple of standout webinars that Mission completed this year.
Cloud Migration StrategiesMigrating out of the data center and into the cloud can transform your business, but it's critical to approach your migration strategically and with the right resources. To help businesses migrate to the cloud with confidence, Mission works closely with TSO Logic and CloudEndure, two companies recently acquired by AWS. Learn more in this webinar.
Clarifying Deployment and Management of Containers with Kubernetes
In this webinar, Mission demystifies the Kubernetes terms and moving parts to help you get an EKS-based solution working on your account.
Blog Posts
Here are a couple of our most popular blog posts this year.
Amazon ECS vs. EKS: Which Service is Right for YouLearn more about the differences between Amazon ECS and EKS to determine which container orchestration service is right for your organization.
Amazon EBS vs. EFS vs. S3: Picking the Best AWS Storage Option for Your Business
What is the best data storage option for your business? Here, we compare three popular options: Amazon EBS vs. EFS vs. S3.
Last But Not Least….
Mission employees obtained a total of 31 new AWS certifications in 2019!
From all of us here at Mission, happy holidays, and stay tuned for exciting new announcements in 2020!
Keep up to date with AWS news
Stay up to date with the latest AWS services, latest architecture, cloud-native solutions and more.
Subscribe Today
Top Categories
Written by
Jackie Berkman
Content Marketing Manager Jacqueline is a content marketing manager with a demonstrated history working in the computer software industry and the publishing industry. She holds a BA in English Literature and Creative Writing from the University of California, Berkeley.