Introducing Mission Cloud Elevate: A New Way to Accelerate Success in AWS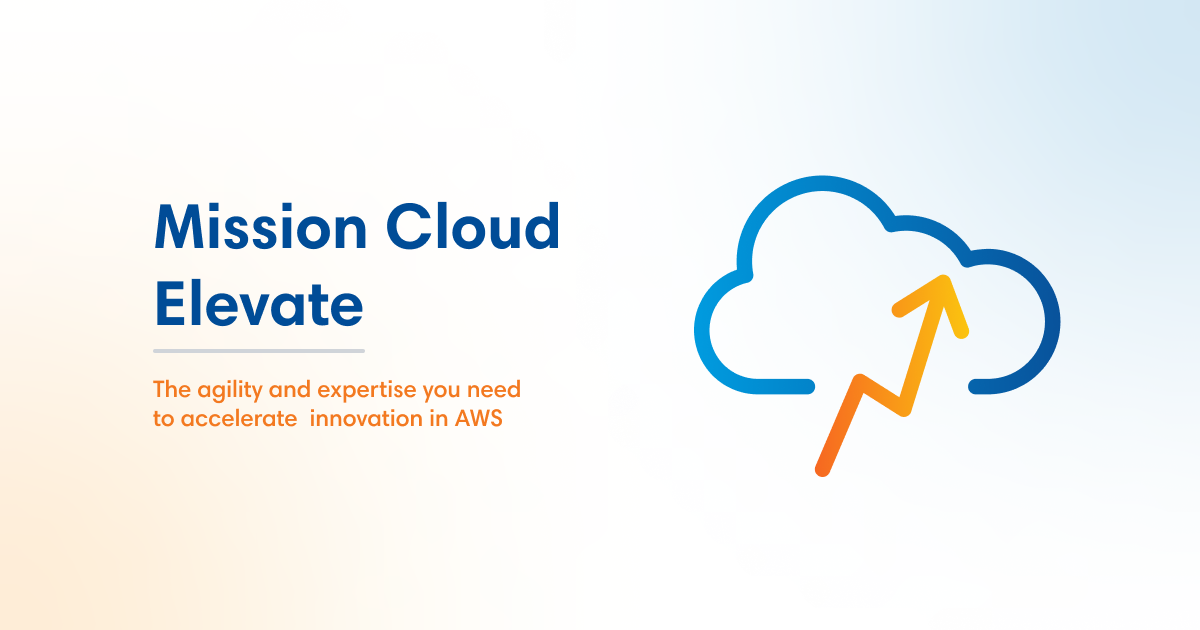 In an increasingly competitive, digitally-driven marketplace, organizations need to be working towards unlocking the cloud's full potential as a platform for agility and an enabler of continuous innovation. The modern cloud industry has witnessed an explosive interest in DevOps and automation. With the ability to start small in the cloud and then scale exponentially, companies who have automated and adopted agile methodologies to pave the way for innovation are finding ways to quickly overcome barriers of entry that once served as sustainable competitive advantages for other companies.

However for many organizations, attaining agility and the full business benefits of the cloud is not easy. The complexities of current IT environments and waterfall-style processes entrenched in company culture hinder companies from making the necessary changes to unleash business acceleration. And finding, hiring, and retaining people with the essential cloud expertise to further guide cloud-native and modernization efforts in the face of a constantly-evolving AWS ecosystem is challenging.

In response to feedback from our AWS customers with IT modernization initiatives who want to execute work in an agile and incremental approach (and simply want to do more in the cloud), Mission has designed and is proud to announce the launch of its newest premier service: Mission Cloud Elevate.

Mission Cloud Elevate is a flexible managed cloud service that provides an agile, team-based way to accelerate success of various cloud initiatives in AWS. From automating IT operations and deployments in AWS using infrastructure as code to deploying AWS proof-of-concepts, Mission Cloud Elevate offers the people, processes, and tools to help achieve organization's desired outcomes faster.

Mission Cloud Elevate uses a custom agile process model designed to optimize workflow execution while giving customers the flexibility to change the scope and priority of work based on their business needs. In addition, Mission Cloud Elevate gives customers access to a designated team of Cloud Solutions Architects and DevOps Engineers that provide ongoing consultative guidance, AWS architecture reviews and optimization recommendations, strategic planning, and hands-on-keyboard engineering support. With Mission Cloud Elevate, businesses can subscribe to a Mission Cloud Elevate capacity tier based on their cloud initiatives, timelines, and budget, avoiding the costly price tag of traditional staff augmentation while gaining the benefits of baked-in coverage models and a diversity of AWS skill sets. This flexible and cost-effective model enables maximum value against business priorities in the time and budget allowed.

Here are some examples of how Mission Cloud Elevate can help your business:

DevOps and Automation
Mission Cloud Elevate helps you simplify AWS provisioning and managing infrastructure, automate software release processes, and build more reliably by automating your IT operations and deployment using Infrastructure as Code ("IaC"), developing CI/CD pipelines, and implementing other DevOps practices using AWS. Mission Cloud Elevate offers the following DevOps and automation services:

Automation of IT operations and deployments in AWS using IaC
Modification of current automation for better operations and performance
Implementation of Continuous Integration and Continuous Delivery ("CI/CD") pipelines on AWS

Infrastructure Builds
Whether you need support building new infrastructure or modifying existing infrastructure through an agile approach, Mission Cloud Elevate can help transform your AWS environment to take full advantage of all the features and benefits AWS has to offer. Infrastructure build services include:

New infrastructure builds in AWS
Enhancements to current AWS infrastructure to improve performance, reliability, security, and costs
Implementation of microservices architectures using containers and serverless computing
AWS Proof-of-Concepts ("POCs")
Implementation of cloud-native architectures

Cloud Strategy and Solution Design
Mission Cloud Elevate provides you with the technical resources and expertise to regularly review your desired business outcomes and needs, AWS environment, and technology goals and challenges. With Mission Cloud Elevate, Mission will work closely with you to build a cloud implementation roadmap and architect technology solutions on AWS based on your organization's goals. Cloud strategy and solution design services include:

Consultative guidance on AWS technologies, architectures patterns, and best practices
Regular AWS account and architecture reviews
Ongoing cloud solution design and development
Discovery and ideation sessions
AWS best practice workshops
Cloud architecture and optimization recommendations

Building For the Future, Together

Building for your organization's future state in the cloud requires that your processes, people, and tools are moving in harmony. With Mission Cloud Elevate, you gain all three, delivered by a trusted and collaborative partner capable of delivering key engineering results while enabling you to focus on your core business and innovation. If you're ready to elevate your business, we're ready to hear from you.

Keep up to date with AWS news
Stay up to date with the latest AWS services, latest architecture, cloud-native solutions and more.
Subscribe Today
Top Categories
Written by

Alex Beal
Director of Product As Director of Product at Mission, Alex is responsible for helping drive product strategy, managing Mission's various products and services, and bringing new services to market. Alex has been in the cloud industry for 10 years, first getting involved in the cloud space as a business analyst for the cloud team at SHI International Corp. Alex has a B.A. in Economics from Rutgers and a M.S. in Computer Science from Stevens Institute of Technology.