SMBs and the Shared Responsibility Model for Cloud Security and Compliance
Businesses around the world have embraced the cloud to take advantage of the agility, scalability, and cost savings benefits it provides. Amazon Web Services (AWS) is the dominant leader in the cloud market—in part because of its effectiveness working with SMBs. One of the challenges that remains, though—particularly for SMBs—is ensuring that applications and data in the cloud are secure.
AWS provides the foundation for success in the cloud with extensive services for compute, network, storage, database, and more. AWS recognizes that SMBs often have limited budgets and significant resource restraints, so it also continually invests in tools and services to help streamline and simplify the cloud for SMBs and provide solutions to optimize cloud performance. When it comes to security and compliance, though, it is important to understand what Amazon provides and what these SMB organizations need to manage themselves.
Understanding the Shared Responsibility Model
Security and compliance in the cloud operate on a Shared Responsibility Model. In a nutshell, the Shared Responsibility Model means that the cloud provider (in this case AWS) is responsible for updating, maintaining, and protecting the infrastructure it is providing to the customer, but the customer is responsible for managing and securing all of the assets and resources it runs on the cloud platform.
AWS depicts the Shared Responsibility Model like this: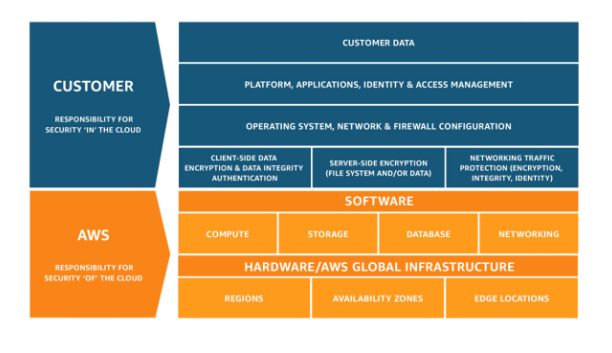 The concept makes sense. Think of it from the perspective of a car. Ford can engineer a vehicle to be as safe as possible—seatbelts, airbags, traction control, antilock brakes, collision avoidance alerts, etc. However, Ford has no control over what you put in the vehicle once you purchase it, or how you drive it. The vehicle itself is as safe as it can be but avoiding accidents and preventing damage to the vehicle are outside of Ford's control.
Just because it makes sense, though, doesn't make it easy—especially for small and medium businesses. SMBs typically don't have cybersecurity teams—many don't even have a dedicated IT team. It is overwhelming to try and run a business and think about configuration management, patch management, endpoint monitoring, threat detection, incident response, and everything else that goes into security and compliance in the cloud at the same time. They simply don't have the resources and expertise to properly monitor and protect their cloud resources.
Share the Shared Responsibility
Fortunately, SMBs don't have to choose between struggling to manage cloud security on their own, or just ignoring it and keeping their fingers crossed. AWS Premier Consulting partners and Advanced Technology partners like Mission Cloud and Alert Logic work together with SMB customers to fill those gaps and provide the tools and expertise needed to manage and monitor cloud workloads for optimal performance and security.
Here's how it works: the Alert Logic platform provides continuous monitoring and alerting for a huge variety of security and compliance checks within customer AWS environments. Mission Cloud's 24/7 Mission Cloud One team will respond to critical threats detected by Alert Logic. In collaboration with Alert Logic's 24/7 SOC, Mission's AWS-certified engineers will work to remediate when possible, and escalate to the customer when needed.
Organizations can no longer ignore the benefits of migrating to the cloud, but doing so should never compromise security best practices or compliance standards. By leveraging Alert Logic's best-in-class security platform with Mission's premium cloud services, SMBs can distribute the tasks in the shared responsibility model with trusted partners who bring a wide range of expertise. When SMBs are no longer in the weeds navigating security tools and services themselves, they have the creative space and bandwidth to grow their business and take advantage of all the cloud has to offer.
Keep up to date with AWS news
Stay up to date with the latest AWS services, latest architecture, cloud-native solutions and more.
Subscribe Today
Top Categories
Written by

Jonathan LaCour
CTO A cloud industry veteran, Jonathan has held several technical and product leadership positions – most recently at DreamHost, one of the largest web hosting and cloud computing providers. As Chief Technology Officer at Mission, Jonathan guides the development of Mission's product and platform. He also leads business development initiatives, and shares his expertise on current cloud trends and best practices at industry conferences and Mission events. Jonathan has a BS degree in Computer Science from the Georgia Institute of Technology.